MICO – Mantis Inbound Call Organiser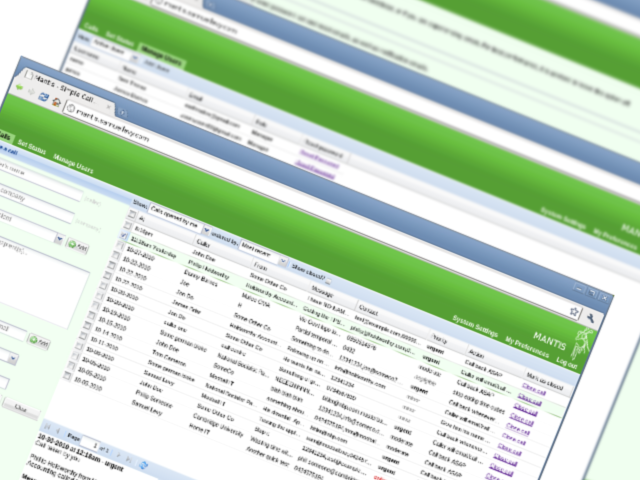 MICO is a simple application for taking down and tracking phone calls. MICO stands for Mantis Inbound Call Organiser .
Are you using MICO? Let me know on mico@samuellevy.com
Licence: GNU Lesser General Public Licence version 3.0
Requirements:
– PHP 5.1+ (optimisied for PHP 5.2+)
– MySQL 5+
Version
Date
Download
0.14.0b – Stable
2016-02-11
zip (12 MB)
rar (11 MB)
tgz (10 MB)
Change Log
Upgrade Instructions:
Upgrade instructions are available here.
Hosting Options:
Easy MICO hosting is available through the Dreamhost 1-Click Install system.
Git:
MICO is hosted on Git hub: http://github.com/samlev/MICO
Live Demo:
A live demo is available at mico.samuellevy.com
For the purposes of the demo, all email from the system has been disabled.
There are four default accounts, which are: 'admin', 'manager', 'user', and 'disabled'
The password for each of these is 'password'
The database is reset 4 times a day, so if someone has changed a password, try another account, or try again later.
Bugs & Feature Requests:
Until a formal bug tracker is set up, send any bug reports, suggestions, etc. to mico+bugs@samuellevy.com
Language Support:
MICO currently supports the following languages:
If you would like to contribute a translation, let me know at mico+translate@samuellevy.com
FAQs & troubleshooting:
Common issues and their resolutions are available here.